The IYC welcomes 2 new staff members to our organization: Marcela Hernandez and Alejandro Aldaña.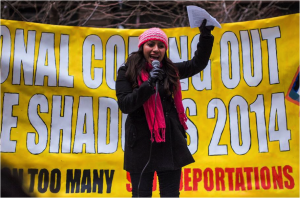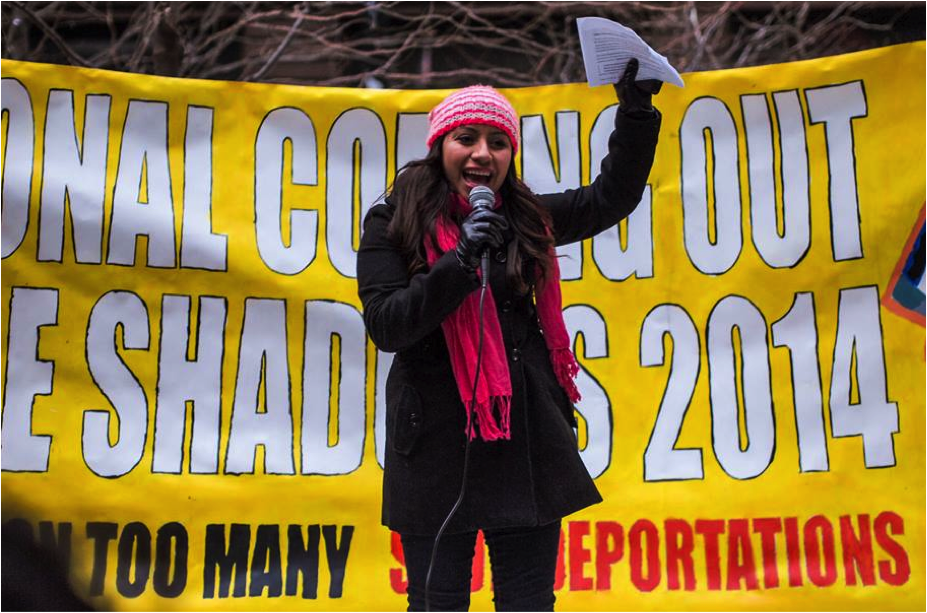 Marcela Hernandez, Deportation Defense Coordinator
Marcela Hernandez was born in Mexico City and her family migrated to the United States when she was 10-years-old. She grew up in San Gabriel Valley, California where she started getting involved in the immigrant rights movement. Marcela graduated from Loyola Marymount University with a B.A. in Political Science and Spanish. At Loyola Marymount she was actively involved with service and social justice organizations that advocate for women's rights, workers' rights and immigrant rights including MEChA de LMU, Viernes for La Tarde RESILIENCE (undocumented youth support/advocacy group), and Gryphon Circle. During her academic breaks she participated and led alternative break trips in Los Angeles, Central Valley and across California focused on farm worker's issues, immigrant rights, human trafficking and environmental justice issues.  She served as Social Justice Director at LMU for one year coordinating campus-wide advocacy and educational events on different social justice topics including hosting Rigoberta Menchu for a conference focused on indigenous people's rights.
After college, she was the first undocumented student accepted into the Jesuit Volunteer Corps Program and placed in Chicago. For a year she was an after-school program coordinator at Family Matters. Upon arriving to Chicago she joined the Immigrant Youth Justice League (IYJL), a Chicago-based organization led by undocumented youth working towards full recognition of the rights of all immigrants. She was also an organizer with Organized Communities Against Deportations which solely focused on fighting deportations, the Not1More Campaign and against detention policies. For two years, she was Outreach Organizer the immigration project of the Chicago Religious Leadership Network, working on the passage of driver licenses for undocumented community members, against the detention-bed quota, pushing for Administrative Relief and a stop to deportations, against the Trans-Pacific Partnership and actively involved in the Latin American rights advocacy efforts of the organization. She participated in a civil disobedience in Washington DC on February 2014 demanding President Obama stop all deportations.
In the spring of 2014, she moved back to Los Angeles and has been coordinating an internship program for high school students interested in environmental justice careers. Marcela is currently a member of the San Gabriel Valley Immigrant Youth Coalition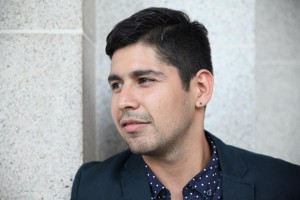 Alex Aldana, Development Coordinator
Alex Aldana (27) is  a (queer)  migrant Jota, writer & movement organizer with the East Bay Immigrant Youth Coalition using his body and soul's  uncensored opinion as a weapon  of political and radical truth against   current U.S. Terrorism to immigrant and Queer and Trans  Communities.
He currently self-deported from the United States back to Mexico as an  organizers for the third "Bring them Home" Campaign with the National Immigrant Youth Alliance, which fought to reunite 150 immigrant families and organize from inside CCA Detention facility.
Aldana's work has consisted on including the dialogue on HIV services for undocumented immigrants at The United States Conference on AIDS in 2011, engaged in civil disobedience actions that highlight the need to stop deportations with the Immigrant Youth Coalition , joining  national campaigns such as Campaign for an American DREAM , the  OFA Office's occupations in Denver pushing president Obama for an Executive Order to stop the deportations. He recently staged civil disobedience acts at Governor Brown's  and Janet Napolitano's appointment in the UC System in California as well as blocking deportation buses in San Francisco. He is also one of the three subjects for the film Gay Latino LA: Coming of Age and American Dreamers.
Prior to leaving the US, Alex  worked and lived in the San Francisco Bay Area with LYRIC & Causa Justa, developing and directing the first-of-its kind "UndocuWorkforce" a pilot program run for/by undocumented queer youth that have no legal status to work on social justice/culture organizing skills. After 7 weeks in detention, Aldana is currently free, fighting for his right to stay with his family and community.