Thursday, May 27, 2015
Santa Ana, California
We, the Immigrant Youth Coalition (IYC), stand in full support of our colleague Paolo Jara-Riveros. The IYC is a California statewide organization focusing on prison abolition led by undocumented queer and trans people.

We commend Paolo for his decision to share his full self with the world as a transgender man and courageously participate in direct action to demand an immediate halt on the deportation and detention of LGBTQ migrants in the U.S. Recognizing that every personal act is political, we highlight the impact that Paolo's statements will have on the future. Paolo's moment of allowing us in to his life by openly embracing his identities is a significant moment for Paolo and for the movement toward a more just society.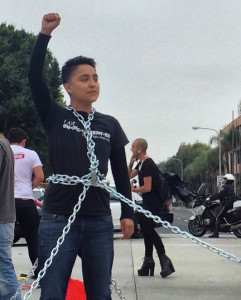 Paolo returned to California from Lima, Peru with the #bringthemhome campaign in 2013 and was detained in an immigration detention center with dozens of LGBTQ migrants who sought asylum. Due to a lack of opportunities in the U.S. as an undocumented immigrant, Paolo returned to his birthplace in Peru with the intention to apply for a Visa to study in Spain. After his Visa to Spain was denied, Paolo was trapped in Peru, which is not a safe country for LGBTQ people.
Homophobia and Transphobia are written into the laws and society of Peru, which makes acts of violence against LGBTQ people an everyday danger. As a result, LGBTQ people in Peru are often forced to be invisible. Peru do does not offer basic legal protections for people who are victims of hate crimes and trans identified people are routinely misgendered and ostracized, leaving many hate crimes against trans people unprosecuted and unsolved.
Paolo is seeking asylum in the U.S. because this is where his mother resides, where he has built a community of friends and allies – the U.S. is his home – where he can be himself openly as demonstrated in today's action. Paolo is risking being placed back in immigration detention and being deported by engaging in this direct action. However, his values show that his commitment to organizing the community to raise our voices is greater than his personal suffering to end LGBTQ deportations once and for all. By committing to organizing the communities within the detention centers, Paolo is an example of love and of fearlessness in the face of oppression.
The U.S. is where Paolo has gathered the courage to disclose his identity as an Undocutrans man which propels him to demand an end to the violence against LGBTQ migrants. The IYC shares Paolo's vision and encourages all organizations who work toward social justice to center their work around the experiences of Transgender people of color. When we begin from the margins, we uplift the entire community.
Therefore, the Immigrant Youth Coalition puts forth the following demands to call for the respect of all Undocutrans and Undocuqueer people:
1. We demand an immediate halt in the detention and deportation of transgender women, by eliminating the Priority Enforcement Program (PEP-Comm) and the detention bed space quota as mandated by Congress.
2. We demand that the Obama administration investigate and prosecute private prison corporations responsible for human rights abuses in detention centers. This includes investigating and prosecuting all cases of solitary confinement, sexual abuse, denial of healthcare rights, misgendering, among many others.
A victory for the respect of undocumented trans people is a victory for all of us. In the words of Audre Lorde, "I am not free while any woman is unfree, even when her shackles are very different from my own." Let us work together to envision a movement that does not perpetuate the very forces we are standing up against.
In Struggle,
Immigrant Youth Coalition
#miexistiresresistir
#myexistanceisresitance