"Coming Out of The Shadows" Caravan
 "COMING OUT OF THE SHADOWS CARAVAN": March 27th- April 7th
"The Coming Out of The Shadows" Caravan consists of undocumented folks riding as far south of San Diego to our state capitol in Sacramento, each day along the way, we will be arriving in different cities to support local organizing efforts and hosting events focused around Abolition, Immigration, Racial and Gender Justice.
Join the Caravan riders as they share their experiences and join protest against the deportation machine and Police who collaborate in raids, deportations and who are responsible for mass incarceration and killing of our people.
Our mission: Undocumented youth and directly impacted people will bring an "Undocumented Platform for Justice" to California decision makers, created by those most marginalized in direct response to the 45th's fascist attacks. The Caravan will build a stronger and more fearless movement by "Coming Out of the Shadows" in 9 communities  across California, each one with the same common goal, to request meeting between Governor Brown and the Caravan riders demanding our platform be used as a blueprint for resistance against the 45th presidency
FROM PALESTINE TO MEXICO THESE BORDER WALLS HAVE GOT TO GO!
WHY COME OUT? We are in a time where we have a fascist federal government, and so called advocates and elected officials are trying to silence the undocumented youth movement while they "carve out" compromises on our human rights.  In California the 45th works through his band of minions also known as the California State Sheriffs Association (CSSA), the Police Unions and Liberal politicians willing to work with them. Together they are looking to add amendments to any pro-immigrant legislation and leave broken windows that allows for further criminalization.
As the IYC we understand the importance of  story based strategies in our communities to empower those who have been silence or told they are not deserving of justice because of their criminalization. Throughout the caravan and in each event, we will create the space needed for those who feel empowered to share their own stories, those who are undocumented and directly impacted specifically.
SIGN ONTO OUR "UNDOCUMENTED JUSTICE PLATFORM"
(Demands will be gathered from each community we visit)
Coming SOON!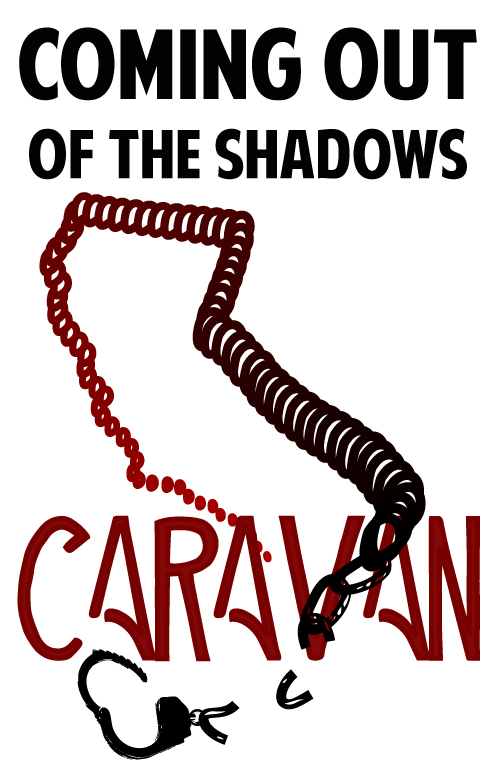 Sponsor the Caravan : Organizational Sponsors Sign Up Here: If you are a organization, labor union, coalition who would like to support uplifting the voices of undocumented and directly impacted please consider sponsoring or joining us in organizing the Caravan.
Donate to the Immigrant Youth Coalition  Make a Donation to grassroots undocumented & LGBTQIA+ youth who are directly impacted so we can be our own voice!
Donate to support the Caravan:
$20.00 Will help cover fuel costs
$50.00 Will cover printing and materials including Art
$100.00 Will cover the cost of a local "Coming Out of the Shadows" Event
$500.00 Will support with need based stipends for Caravan riders
$1,000 Will help cover transportation and lodging for the 15 day journey.
Volunteer your time with the IYC: We are in need of organizers, healers, communications experts, and any way you can share your skills and resources are appreciated
Provide legal funds and legal support: Contact Marcelah@theiyc.org, most of the Caravan riders are undocumented, LGBTQIA+ and directly impacted by the "crimmigration" system. We are coming out of the shadows there fore we will be at risk throughout the duration of the Caravan.
Follow the Hashtags #undocumentedunafraid #COOTSCaravan
"Coming Out of the Shadows" (COOTS) Month is a national effort which started in Chicago, Illinois on March 10th, 2010 when undocumented and queer youth declared to be "undocumented and unafraid" at Federal Plaza, facing the immigration and federal office building. Around the country, undocumented youth did the same, some risked getting arrested or deported by escalating to civil disobedience in support of immigrant rights.
Coming Out Of The Shadows brings undocumented people from diverse identities to speak their truth and stand against state violence through testimony, spoken word, dance, art and photography as a way to voice our struggles through our own experiences. COOTS gives people who have remained in the shadows, the stage in which they can reaffirm their existence and begin the healing process from the traumas that come with being undocumented in California.

#UNDOCUMENTED #UNAFRAID #QUEER #UNASHAMED
Check out pictures from our last Caravan in 2013